Obamacare and the Impact on CNA salaries and Job Prospects
The Patient Protection and Affordable Care Act, signed into law by President Obama, will be responsible for some major changes in the nation's health care system.  Nurses, PAs, and CNAs are going to be particularly well positioned to take advantage of these changes.
One of the biggest changes is going to be the fact that we will be adding thirty million additional people to the health care roles, many of whom are on the lower end of the income scale, or did not hold private insurance previously.  On average, they are likely to have more health issues than those who have been covered by insurance, so the system will be particularly burdened by such a large influx of those who tend not to be as healthy.
Health Care Costs Changing
This creates a double pressure on the system to keep rates down, indeed, some doctors and physicians are displeased with these new changes, because the PPACA will most definitely seek to lower reimbursements as part of cost-controlling measures.  Presumably, some will leave the field, or limit the amount of new patients they will be able to accept.  This leaves CNAs, LPNs, PAs, and others in the nursing field primed to step into those positions and deliver the needed care.
For more than a decade, those across all the various nursing professions have been steadily adding to the scope of their jobs.  Primary care doctors and facilities have been disappearing, both in rural and inner-city environments, and the PPACA will according to most reliable estimates, accelerate this trend.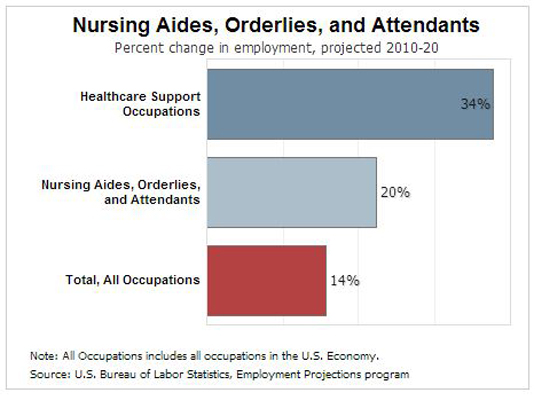 According to the United States Bureau of Labor Statistics (the BLS), the profession of Registered Nurse is going to be the single fastest growing profession across the entire the nation between 2014 and 2024.  Other types of nurses are going to experience similar rates of growth, leading the BLS to label nearly all categories of health and health support services as likely to grow by more than 20% over this decade.
Along with the number of jobs in health care increasing, the salary trends are equally encouraging for those looking to enter the field.  The average national salary of jobs for this career was $64,000 with a high confidence ranking based on over 250 sources. Average Registered Nurse salaries for job postings nationwide are 7% higher than average salaries for all job postings nationwide. (Nurse Journal, 2016)  This represents an increase of 6% annually during times when millions of people in other fields were either losing their jobs or desperately seeking new work.
Different Careers Bring Different Salaries and Challenges
So who are the biggest winners of all financially, due to these new trends?  Nurse Practitioners and Physician Assistants, will those working in those positions full time reporting earning over $90k in 2015.  Those stationed in actual emergency departments broke six-figures, averaging $104,549.  These increases mean that they are earning nearly two-thirds to three-quarters of what family physicians themselves make.
And demographically, where are the best places in the country?
As you would expect, job prospects and salaries tend to be the brightest in places where demand is heaviest.  That means to look at all of our most populous states, such as California, New York, Texas, Florida, and Illinois.  Other places to look at those which will have shortages of educated, qualified, and trained personnel.  Alaska and Hawaii, as well as states with extremely low population densities (the Dakotas, some of the Rocky Mountain States such as Idaho, Montana, and others) do not have enough CNAs, RNs, LPNs, and PAs to go around, so they therefore will pay a premium to attract new workers to their states.
So all in all, CNA salary trends look extremely rosy for the foreseeable future.  Employment trends are equally positive, and together they ensure that those who are looking to build careers in the medical field over the next decade have excellent prospects for success.  Nurses lead the charge, with CNAs, PAs, Medical Assistants, and RNs being the most desired, although prospects for those interested in administration, billing, or coding are also quite strong.
Search for CNA Classes in Your Area
Request Information Regarding CNA Classes, Medical Assistant Programs, and LPN Programs in your area by entering your zip code below.