INTRODUCTION
The tuition and fees to go to a college or a technical, vocational school have increased in recent years at an alarming rate. In the past, people could go to a college or vocational school simply to following their career dreams. Today, it takes careful consideration of not only one's dreams but the costs associated with the education needed to enter a career and the possibilities of getting a job after you have paid for, and completed, the required education. You must consider if a career is good for you. You have to decide if it is possible, and feasible, based on costs and your ability to study and finish a school of your choice. You should also find out if your career has long term promise of a job. It does not make sense to go to school and pay the cost if there are no jobs in your area that you can work at.
Many school age children begin to think about what they would like to do when they grow up. A 6 year old child may dream about a nursing career. A young boy, who loves rocks, minerals and how mountains form, may dream about being a geologist, while a young child who loves art may talk about becoming an art historian. A child who has read a book like Doctor Doolittle, loves animals, and who loves going to zoos, may dream about becoming a veterinarian, or vet. Some of these dreams are realistic and some are not. Any one of these jobs may be not realistic because the person can not afford the costs or they lack the ability to pass entry exams into the school. Some of these jobs have great promise and a wonderful job outlook for continuous employment throughout the future, while others do not offer this same promise.
For example, a career in nursing may be realistic in terms of the costs and in terms of the person's ability to intellectually master the material in a school of nursing. A person can take advantage of scholarships, tuition assistance and student loans to pay for the costs of going to nursing school. They can also go to school part time as they are earning income in another job while going to school. The same is true for those that are interested in becoming a nursing assistants or a CNA. They, too, may be able to get a scholarship, tuition assistance or a student loan to pay for the costs of going to a CNA training program, or course. In fact, many people begin their nursing career by first becoming a CNA. A person interested in becoming a nurse or a CNA, however, must also do some self reflection to determine if they are motivated enough and able to learn the things needed in these roles. The long term promise of healthcare careers, like nursing, offer very good and continuously good job outlooks and opportunities. You will want to seriously consider doing these jobs if a career in nursing, and/or as a CNA is realistic for you and it also has a good job outlook. These careers are filled with promise, pride, self satisfaction, choices, challenges, and an opportunity to have a job that is in high demand, even in poor economic times. These jobs will never disappear. CNAs have many opportunities to advance in healthcare, if they choose to do so. They can advance into an RN or LPN (LVN) school, often with tuition assistance from an employer. They take pride in their job and they experience quite a bit of self satisfaction and gratification because they are in the esteem healthcare field and they are helping others by giving quality care to people of all ages.
On the other hand, it may not be realistic for a person to become a geologist, art historian, astronaut or vet. It may not be realistic because the person cannot afford the costs of schooling and they may not have enough motivation or intellectual ability to pass the school necessary to get this kind of job. Also, these jobs do not have a good job outlook. The number of art historian, geology, vet medicine, and astronaut jobs are few and far between. It would be very sad to spend time and money when you are not able to find a job to support yourself and your family.
At this time, careers in healthcare, mathematics, science and technology are in great demand. If any one of these careers is feasible and desirable to you, these are ones that you should pursue!
HOW MUCH DOES A CNA EARN?
While one can earn a solid wage as a CNA, becoming a CNA can also be a stepping stone to higher salaries in the healthcare industry. The following table illustrates a variety of career options for those in the CNA field.
| | |
| --- | --- |
| Personal Care Aides | $9.82 |
| Home Health Aides | $10.46 |
| Personal Care and Service Workers | $11.09 |
| Nursing Aides, Orderlies, and Attendants | $12.09 |
| Social and Human Service Assistants | $14.47 |
| Healthcare Support Workers | $15.23 |
| Licensed Practical and Licensed Vocational Nurses | $19.88 |
| Healthcare Social Workers | $23.65 |
| Social Workers | $25.13 |
| Registered Nurses | $32.56 |
In addition to the base salary, most CNAs also get other valuable benefits. These benefits may vary among healthcare facilities, but the most common ones are:
Health insurance
Dental insurance
Life insurance
Tuition reimbursement
Paid vacation time
Paid sick time
Child care
Opportunities to work overtime
All of these benefits are quite nice to be provided.
WHAT IS THE OUTLOOK FOR HEALTHCARE AND CNA JOBS AND HOW CAN I FIND A JOB?
Healthcare workers and CNAs are in high demand in all areas of our nation. The outlook is FABULOUS. We suggest that you do the following things to confirm that this is true in your particular area or city.
Buy your local newspapers and look at the classified job ads. Put your feet up and relax while you review and study the job ads for healthcare, CNAs, home health aides, nursing assistants, astronauts, geologists, art historians, vets and others. I predict that you will find many job ads in healthcare, including jobs for nurses, CNAs, home health aides, and nursing assistants. I do not expect that you will find jobs for astronauts, geologists, art historians or vets. A job in healthcare may be the obvious choice for you as long as it is possible, or feasible, for you and your particular circumstances, both financially and intellectually.
Look at internet websites such as Monster at https://www.monster.com/, Career Builder at http://www.careerbuilder.com/, Indeed at http://www.indeed.com, and Glass Door at https://www.glassdoor.com/index.htm. I did a recent search of both of these sites and I found thousands of jobs nationally and hundreds upon hundreds of jobs for CNAs in the Chicago area alone! On the other hand, I found no jobs for astronauts in the Chicago area using Career Builder and none at all nationally at Monster.com.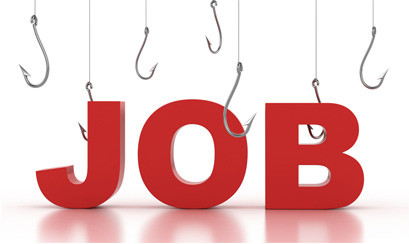 Research you state's Workforce Department. Workforce services include help with deciding on a career, resume preparation, some training, job fairs and posted job openings for CNAs and others. A recent visit to Florida Workforce has more than 650 job openings for CNAs at https://www.employflorida.com/vosnet/Default.aspx
Research hospitals, nursing homes, schools and home care agencies in your area. As you will see most of these healthcare settings have websites that also have many job opportunities, or employment openings. They may also have an application online that you can use to respond to these job openings. For example, go to the Homer, Alaska's South Peninsula Hospital's website to see job openings, to post your resume and apply for a job as a CNA at http://www.sphosp.org/
Network. Speak to people that you know that are healthcare workers. Ask them for their opinion about the job outlook and the job opportunities in your area. Go to group meetings that are open to the public, such as your state CNA Registry meetings, in order to learn about and to find out about job opportunities in your state and area.
Personally visit your local hospital, nursing home and home care agencies. Call them and make an appointment to meet with someone in the human resources, personnel or nursing office so you can ask them about future, and ongoing, job opportunities in their specific facility and throughout your area.
All of the above suggestions are also highly useful in terms of landing a job after you have just finished your CNA training. Simply posting your resume on a website is NOT a good way to get a job. Most employers do NOT even look online for posted resumes.
RESUMES
A resume is a 1 to 2 page document that highlights you, your accomplishments and how you can meet the needs of the employer who is looking for a qualified CNA. This resume must "sell you" so the employer wants to contact you for an interview. It should show how you are the BEST fit and the BEST one for the job.
Good resumes have the following characteristics: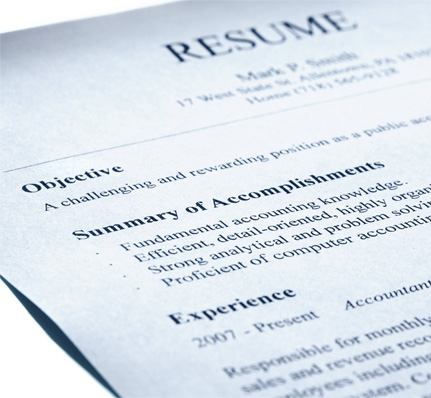 accurate,
detailed and complete but brief,
WITHOUT any spelling, grammatical errors, or typographical errors,
very logical, organized and consistent in terms of format, layout, spacing, font and design,
pleasing to look at,
clean and without any smudges or dirt,
loaded with verbs and power words. These words will be discussed below;
filled with lists or bulleted areas rather than run on narrative sentences,
ones that have keywords that employers may search for on the internet. Often these keywords are ones found in the job ad. For example, an ad for a CNA in long term care may state that the CNA must have experience with Alzheimer's patients. If this is the case, you should include Alzheimer's disease in your resume before you submit it;
printed with one (1) inch margins,
printed on 8 ½ x 11 inch, high quality resume paper in white or "off white" that is made of 100% cotton bond. Jazzy colors such as neon colors are not recommended; and
in 10 or 12 point font so your electronic resume, sent over the internet, is readable and pleasing to the vast majority of employers.
Good resumes should be accurate. It should accurately show what education you have received, what jobs and experiences you have held, your accomplishments in other areas such as volunteer and community work, any civic or school offices that you have held, honors and other forms of recognition, certifications, including your CNA certification, and other things like personal and professional references after you get permission to do so by the reference.
There are many challenges associated with writing a good resume, including the need for it to be detailed and complete but also brief and consisting of no more than 2 pages. It must, also, be free of any spelling or grammatical errors or mistakes. Many people use professional resume writers to write a person's first resume or to proof read, update and/or improve their later resumes. There are many templates on the internet and some with word processing programs, like Microsoft Word, that you can use; however, it is recommended that you hire a professional resume writer with experience in healthcare to do your first healthcare resume. This resume writer will be able to look at your "past life" in non healthcare job. They will relate how these experiences; including volunteer work and "stay at home mother" work are relevant to healthcare and healthcare needs. They know, more than others, what knowledge, skills, abilities and personal characteristics (competencies) are MOST desired in healthcare. Before you begin working with a professional resume writer or begin to work on your resume by yourself, you should think about and:
Record all of your school experiences. You should include the name of the school, the location of the school, the years that you attended the school and what you accomplished when you completed the school. For example, you may have gotten a High School Diploma or GED or you may have gotten your CNA when you completed the school. The most recent school is listed first and the others are listed in descending order.
Record all of your previous and current jobs including volunteer work and work in the home. You should include the name of the employer and their contact information, if any, the dates that you performed this job, the job title, if any, and the responsibilities you help in this job. The most recent, or current, job is listed first and the others are listed in descending order.
Record all the names and dates of any honors, awards and other forms of recognition. For example, record the fact that you have gotten an award or recognition certificate for serving as a volunteer for the American Red Cross in 2015.
Record your initial CNA certificate completion date, the Registry that granted it and the expiration date. Keep this information updated as you continue your CNA career. For example, you should document that you got your CNA certificate in July, 2015 from the State of Arizona and it expires on December 31, 2016.
Resumes should be written with action verbs, in the correct tense, and power words that attract the possible employer. The verbs on the resume will be past tense when you are relating functions of a previous job. Current tense verbs must be used when you relating your present job functions. For example, if you were an administrative assistant and prepared budgets in this past job, you will state, "prepared the budget" on your resume. Likewise, if you prepare budgets in your current position, you will state, "prepares the budgets" or "budget preparation" as one of your roles.
You should also think about a career objective for your resume. The more limiting this objective, the more limited are your chances of getting a job, unless you are applying for a specific role. For example, if there are a number of CNA opportunities in a particular nursing home and you are a CNA looking for your first job, your career objective may be as below.
Career Objective: To begin employment as a new CNA in any area and on any shift that meets the needs of the nursing home
Some of the power words and active verbs that should be used on resumes include the following:
Initiated
Developed
Designed
Organized
Established
Created
Perfected
Solved
Founded
Formed
The common aspects among all of the above power verbs is that they all imply newness and much more than just doing the job and following policies and procedures. Employers, including CNA employers, are looking for innovative people that can more completely, more effectively, and/or more efficiently perform the job. People that initiate, design and develop are better able to meet these healthcare needs.
WHAT TYPES OF RESUMES EXIST?
There are basically two kinds, or types, of resumes. These are the:
traditional resume
functional resume
Although both of these resumes types have your full legal name, address, telephone number and email address at the top, they differ in terms of their approach and their components. The traditional resume includes the education, job experience, awards, and other achievements. The functional resume does not specifically reference specific jobs and roles, but instead it addresses role functions that you have performed. For example, you may have performed a budget function, supervision and/or customer relations functions in your previous job. These functions are highlighted in the functional resume.
Most people use the traditional resume; however, in some circumstances, some choose a functional resume. Many recommend a combination of both types, especially when the person is new to healthcare. A combination of both helps new CNAs to relate past jobs and to show how these non healthcare job experiences relate to the needs of healthcare. For example, a clam digger entering a nursing career has performed many functions and roles that are common to healthcare. The clam digger has to be concerned with the water quality, the size and taste of the clams and the demands of the clam eating customer. These quality assurance and customer relations functions are highly desirable in healthcare and within the role of the CNA.
INTERVIEWING
Many people think that all interviews are very different and not at all similar and predictable. This is not correct. They are very predictable and, because of this fact, you can prepare yourself for the interview. The steps to prepare for and succeed in the interview are as follows: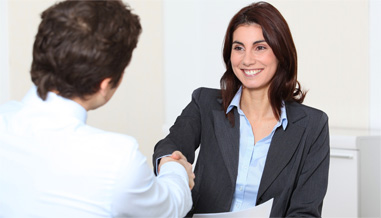 Learn EVERYTHING you can about the possible employer. Do your research. Learn as much as you can about the nursing home, hospital, school or home care agency. What is their mission? What are their values? What is their vision? What are their goals? What kinds of patients do they have? Do they have physical therapy, occupational therapy, speech therapy and/or laboratory departments? You can often find about these things by visiting their website and/or reading their facility's booklet about these things. Be prepared with this information.
Anticipate, and prepare for, the questions that will be asked during the interview. The interview will often have questions relating to your school, your past and current employers, your knowledge, skills and abilities (competencies), your qualifications for the job, why you are the best one for the job, you likes and dislikes, your strengths and weaknesses and your future goals. Suggested responses to these questions are described below. Do NOT ever make negative comments about any previous or current employer. Make only good comments about your employers in an honest way.
Carefully review your resume and the job description of the role that you have applied to. Make sure that your comments during the interview address the employer's needs, not yours. Your responses must relate to how YOU can fill these needs with the characteristics, knowledge, skills and abilities that you have list in your resume. Most people get the job because their skills match the needs of the employer. The fit must be good.
Use the action verbs and the power words that were discussed above.
Get plenty of rest and sleep before the interview. You must appear well rested, lively and motivated.
Plan for and wear appropriate clothing. Modest, traditional clothing is the best thing to wear. Jeans, tight pants, short dresses, sneakers, dirty or soiled clothing, wrinkled clothing, visible tattoos and tee shirts with or without logos are not acceptable. Your clothing does not have to be expensive but it must be appropriate. Many women wear a suit, a dress or a skirt and blouse for the interview. Men can wear a suit, sport coat, a golf type shirt with a collar and nice slacks for the interview. Minimal jewelry is acceptable.
Be meticulously groomed. Neat and clean hair, clean and clipped fingernails and the absence of any body odors, including strong perfume or cologne are very important for the interview. Your first impression is a lasting one.
Arrive for the interview before the scheduled time. Lateness will seriously hurt your success.
Make your entry into the room one that cannot be forgotten. Smile, introduce yourself, shake the interviewer's hand and make eye contact. Be genuine. Be honest and polite throughout the interview.
Remember to focus on the job and your skills during the interview. If you are not sure of an answer to a question, simply state that you are not quite sure or you do not know but you will look it up. For example, if the person asks you about the history of the nursing home and you do not know, state, "I am not quite sure but I would love to learn about it. Do you have any resources that I can read?"
Remain calm, composed, professional, interested, motivated, and confident, but not overly confident or "cocky", during the entire interview.
Emphasize your assets and what makes you unique and PERFECT for the job.
Before leaving the interview, ask any questions that you may have, cordially thank the interviewer for their time and be prepared to send a professional written thank you letter to the interviewer when you return home.
Jot down any questions and answers that you can remember as soon as you return home. This will help you to prepare for future interviews.
The most difficult questions that you will probably have to answer include those relating to your knowledge, skills and abilities (competencies), your qualifications for the job , and why you are the best one for the job. Other difficult questions include those about your strengths, weaknesses and future goals.
You can prepare for questions about you competencies and qualifications and how they fit the job. You will want to tell the interview about the quality of your CNA training, past experiences, such as team work, in previous healthcare and non healthcare jobs, and specific things that you know, or can do, which match the key words in the job ad or job description. Tell the interviewer about the skills that you have and how these skills are reflected in the job ad or job description.
When you are asked about your weaknesses, it is not time for you to confess all your sins to your priest or minister. If you are asked about past crimes, be honest. These things will be found in your application and/or when the employer does a criminal background check but they should not be brought up by you during the inter view. Instead, relate the fact that you are a new CNA so you may not be the quickest but you are committed to quality care. You may also state that you do not know all things but you are willing to ask for help and learn about new things. When you are asked about your goals, you should mention that you want to master the CNA role and perhaps work in another patient area or pursue a nursing license on a part time basis at a future date, if that is true. Interviewers like to employ those who are motivated and want to advance.
SUMMARY
Resumes and interviews may seem, at first glance, to highly challenging and difficult. This is not true. You will succeed when you follow all the steps and rules that are covered in this article. Good luck and enjoy your first job as a CNA!