Entry Level Medical Career Salaries
Here we will take a look at some of the entry level salaries available to you across a wide range of careers in the medical field.  While we obviously focus on CNA training, we do want to provide you as much information about other alternatives in the field.  Not everyone has a strong enough stomach to be a CNA, after all!
The Top States and their Salaries
So we have compiled listings of the average salaries available to you as a Medical Assistant, a Medical Billing and Coding specialist, a Health Information Specialist, full on LPNs, as well as CNAs, across the five states which hold the most jobs in the health care industry: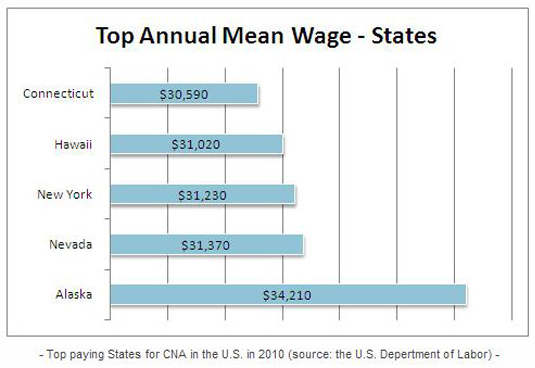 California – It is no surprise that our most populous state also holds the most jobs in health care.  CNAs start out on average earning $19,440, Medical Assistants come in at $20,790, Medical Billing or Coding Specialists grab $25,440, and full LPNs take home $36,010.
New York – Our second most populace state also has an extremely high concentration of wealth per capita, making it a good choice for high wages as well as employment opportunities.  CNAs start us off earning $23,320, Medical Assistants get an even $25,000, Billing/Coding Technicians earn up to $31,450, and LPNs again out-earn the rest of the pack at $39,820.
Texas – Texas has an extremely broad demographic profile and a high population, as well as being incredibly large.  It also is a growing center of technological and medical research, leading to a higher per capita concentration of medical jobs than many other areas.  Ground-floor CNAs begin at $17,260, slightly better trained Medical Assistants get $20,000 on average, Medical Coding and Billing specialists $23,670, and Licensed Nurse Practitioners up to $34,050.
Florida – The state of Florida has one of the highest populations of the elderly in the nation, and is no slouch in total population.  This has created a booming job environment for those in medicine.  Their CNAs get modest starting salaries of $17,160, Medical Assistants bring in up to $17,580, Administrative Billing and Coding support earns $20,240, and new LPNs can see salaries up to $34,650.
Ohio – While there are other states with slightly more population than Ohio, such as Illinois, Ohio remains a superior area for those in medicine, due to the distributed demographics of the state.  As usual, CNAs begin our salary ladder in the medical field at $18,650, next comes our Medical Assistants who earn $21,480, then comes Medical Billing and Coding personnel at $24,800, and last but not least LPNs who top the earnings charts for one final time at $34,070.
As you can see from these salary trends across a diverse array of geographic locations in the United States, more training almost always directly correlates to higher salary paid.  This is why, in every location, Licensed Nurse Practitioners lead the earning field, and why CNAs are the low people on the totem pole, figuratively speaking.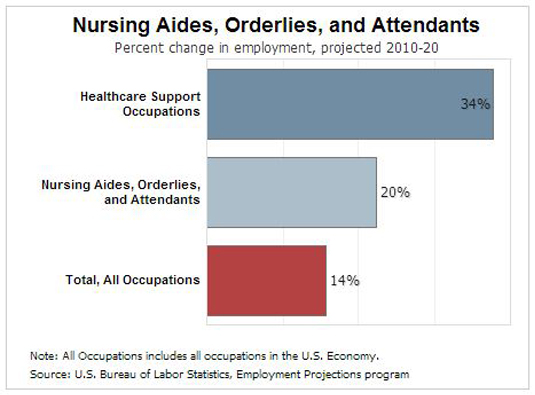 Gather Further Information
This is why we have made it our mission at CNAclasses.org to help connect students with the additional training they require if they want to earn some of these higher salaries.  You will find resources here to help you along every step of the way.  We can help you realize your dream of working in the health field and directly impacting the lives of others, and earn a good wage at the same time.  So please, come and take a look at all the resources we make available to those who are interested in the health care field.  We have salary and wage information, job prospects across the nation, all sorts of information on different training programs and educational opportunities, and much, much more.
Search for CNA Classes in Your Area
Request Information Regarding CNA Classes, Medical Assistant Programs, and LPN Programs in your area by entering your zip code below.